The System Stats...
---
Asus NH-DL Dual Intel Xeon Motherboard
The main component of RLANDON.COM is the Asus NH-DL Dual Intel Xeon motherboard. The board runs two retail Intel Dual Core Xeon processors with a bus speed of 800 mhz. This mb requires COOLING, and have 9 fans keeping it cool. There are four sticks of Patriot 1 gig (4 gig total) memory.

Microsoft Windows Vista Ultimate
The system OS is Microsoft Windows Vista Ultimate, 32 bit OS Retail with all the Technet updates. I had to have all the bells and whistles of the new OS not available on the other retail packages of Vista.

ATI RADEON 9600 Video Card
Since the Asus board is not PCI-E compatiable, I still have the board running an AGP 8x card with 512 meg of video memory. For no more than I do (no gaming), this card works great!

Olevia 32" LCD Monitor/HDTV
To view all this information I use a 32" Olevia LCD screen set to VGA mode at max resolution. Makes quite the screen!

Uploads and Downloads
Presently Connected via Comcast Cable Internet via a Motorola Surfboard Modem, Linksys (Cisco) Router. Not the best upload speeds but it works. You would think for the price of Comcast I would get 10+ mbps down and at least 1.5 mbps up! My two-way StarBand sat system was faster for downloads!!

The Drives
Drives C: - F: The box uses 4 Maxtor 200 gig SATA 7200 RPM IDE Hard Drives set as a RAID 0+1 configuration via onboard Promise 2x2/SCSI chipset. This way I have speed and data security. The drives are all NTFS.
Drive G: Sony 20x16x52 IDE DVD/CDRW Recorder on IDE 1 as Master.
Drive H: Sony 52x CD-ROM on IDE 2 as Master.
Backup Drive: Maxtor One Touch III Mini 80 gig USB Drive.

The Miscellaneous Parts
The other parts include: Built in sound card cranking it out on 4Q Sound Image Jr. 5 piece Speaker System (killer sound!!). Two i-Rocks 4 port Mini USB Hub's (powered). Logitech Quickcam Pro 5000 webcam (see home page for "weatherproofing a Cam"). Hewlett Packard OfficeJet 6110 Printer/Fax/Scanner/Copier. Logitech Cordless Keyboard and My Trusty Cordless TrackMan Wheel (don't use mice). It's backed up and protected with a TrippLite 1500 VA USB UPS.

System Hours


---
The System (Old BP6 System, New Asus Pic's Soon!)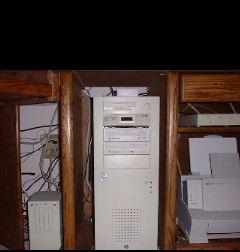 The BP6/CPU's